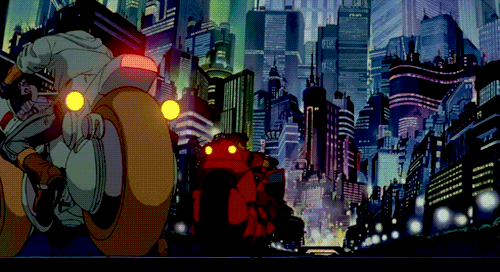 Directed by Katsuhiro Otomo
I remember seeing late-night TV commercials for Akira when I was a kid (probably during Liquid Television on MTV, if I had to guess). The commercials hyped it up to be some profound contribution to cinema, and even name-dropped Blade Runner, without really revealing the plot of the movie, other than it had people riding motorbikes.  I recently stumbled across it on the Tubi app, and decided to watch it to see what all the fuss was about.
This sci-fi Japanese anime begins by showing an atomic explosion in Tokyo in 1988, that kicks off World War III. Fast forward to the year 2019, and Neo-Tokyo is a dystopian wasteland with both domestic terrorists and motorbike gangs roaming the city, engaging in acts of violence.

Tetsuo, a teenage member of one of these motorcycle gangs, acquires special powers after nearly crashing his bike into a weird being that looks like an elderly child with bluish skin. Turns out this child has escaped the research facility where he and two other elderly-looking psychic children like him are being kept and studied. The Army shows up to collect the child and Tetsuo. Tetsuo is put in various MRI-type machines so that scientists can study him. They determine that he has strong telekinetic powers, much like Akira, a former test subject who got too big for his britches, so to speak, and caused the atomic explosion in 1988.
After experiencing some terrifying hallucinations, Tetsuo escapes the facility and returns back to his friends. He tries to steal his much-cooler friend Kaneda's badass, red motorcyle to leave the city with his girlfriend, but is thwarted by a rival gang. His anger stirs up his newfound magical powers, and he begins to destroy everything he comes into contact with. Meanwhile, Kaneda and his new domestic terrorist girlfriend try to figure out what is going on.
I, too, was left trying to figure out what was going on toward the end of the movie. Tetsuo morphs into a giant blob with tentacles, and tries to kill his friends. After a lot of screaming and fighting, the three elderly children float into him, and some kind of magic happens. The power of love saves the day or whatever. I still don't really know. Even though I saw what occurred, I had to look it up on Wikipedia to understand. Apparently, Akira was awakened, and whisked Tetsuo away to another dimension.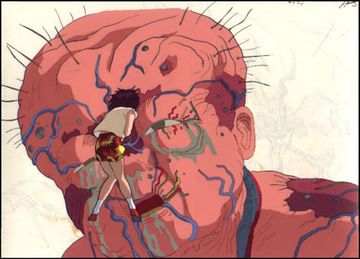 … 
DESGUSTANG!
What I do know is that I was impressed by the quality and style of the animation. It is crisp and detailed. I am impressed that people hand-drew this.  All the little details, down to the neon lights in the city to the trailing tail-lights of the bikes, almost made me forget I was watching a two-hour-long cartoon. In fact, the scene where Tetsuo steps on broken glass and pulls a shard out of his foot made me physically ill. Stylistically, Tetsuo looks like any standard character from Dragon Ball Z, but aside from that, the cityscapes are really cool. I would imagine that this is one example of the '80s-futuristic aesthetic that Vaporwave attempts to imitate. I can also see a connection with Jamie Hewlett's Gorillaz, in terms of the characters' facial construction and movement, although I'm not sure if this movie had any sort of direct influence on him.
I am not really qualified to say if this is one of the best full-length anime films out there, but I did enjoy it, despite the psychedelic mess it became toward the end.